Purchasing medicine in Ukraine makes a big difference.
Last year, when Russia began a full scale invasion, many humanitarian organizations began their activity in Ukraine the hard way. Assuming there was a lack of everything in Ukraine, organizations began to purchase and import medicine directly from the USA or Europe, and most often from Poland, due to its proximity to the Ukrainian border.
In providing this medical supply,  humanitarian organizations faced many obstacles:  higher prices, additional shipping costs, logistic issues, and the fact that many of the medical items needed in Ukraine require legal permits. Not to mention wasting precious time at the border crossing.
Fortunately, all these complications can be avoided, gaining time and money.
We thought it important to explain how God has provided a better solution.  When you make a donation to the Armada Network or the American Pastors Network, that buying power is multiplied well beyond what many can imagine!
Ukrainian pharmaceutical companies and pharmacy chains did a great job staying in business during the war. They relocated their warehouses and production capacities from danger zones, and increased the import of those medicines not manufactured in Ukraine.
The Lviv pharmacy chain BAM is one of the largest in Western Ukraine. They have numerous stores all over the country operating under difficult circumstances caused by the war. The pharmacy provides both imported and domestic medicines, and discounts large orders we make with them up to 10%. The price difference between the same medical item in the USA and Ukraine is shocking while maintaining the same international standards for quality.
Also, the pharmacy BAM responds to our large requests within a few hours, suggests the best medical items at the best price, and puts together the complete order in a day or two. Sometimes they amaze us by how quickly they operate. For instance, this summer, the pharmacy put together a large order for 2500 IV kits in under 6 hours, proving themselves a reliable partner to get the job done!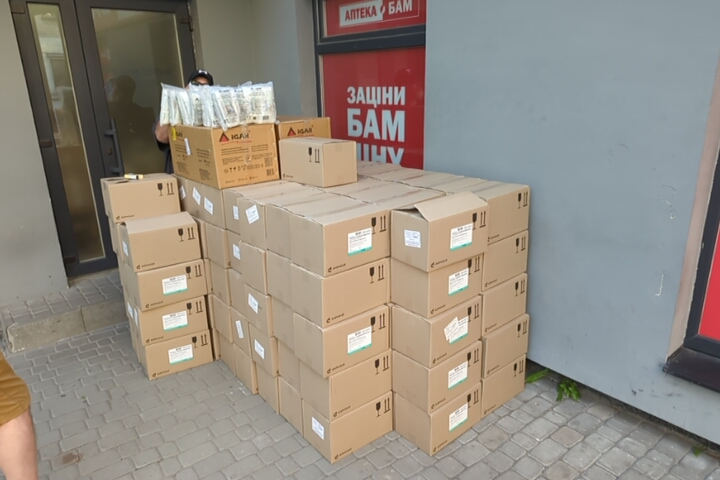 Also, with the pharmacy managers' help, all purchases are arranged remotely via the bank. They provide all invoices and receipts and take care of the order's shipping through the Ukrainian shipping company, Nova Poshta.
To summarize, by purchasing medicine in country we have saved hundreds of thousands of dollars, virtually eliminated shipping costs and the time wasted shipping internationally, we remove all customs fees, and avoid the delays of border crossings into Ukraine (sometimes a truck will be delayed for more than 2 weeks) and finally, by purchasing medicine in Ukraine we have a positive impact on the country's economy and their employment.
Thank God for BAM! Such a reliable and professional partner in our network saves lives every day.